Mistakes to Avoid When Implementing an Electronic Health Records System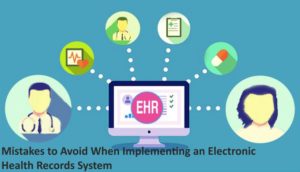 Electronic health records (EHR) have been fully established in the U.S. medical system since 2008, but surprisingly there has been a very slow adoption of fully integrated EHR systems in practice in both primary care settings and within hospitals. For those who have invested in EHR, physicians report high levels of satisfaction and confidence in the reliability of their system. There is also consensus that EHR can improve patient care, promote safe practice, and enhance communication between patients and multiple providers, reducing the risk of error. As the process of EHR implementation continues in hospitals, administrative and physician leadership must actively investigate all of the potential risks for medical error, system failure, and legal responsibility as they move forward.
Ensuring that physicians are aware of their responsibilities in relation to their charting practices and the depth of information available within an EHR system is crucial for minimizing the risk of malpractice and lawsuit.
Therefore, even though the software works, when the implementation is inadequate the software may not be used to its fullest potential. It is crucial for the well-being of patients and of a practice for users to avoid the most common mistakes made when implementing EHR.
Below are some of the most common pitfalls made when implementing a new EHR system.
Investing in a complicated system.
Consider how easy (or hard it will be) for your least tech-savvy staff member to adopt your new software system. That should give you a good idea of how user-friendly your EHR is. While it's true you might not need to be a technology expert, the more you and your staff know about how to utilize the system, the better. Take into account the ease of use when making a decision about a new expensive system change.
Over-engineering a new system
In trying to customize your EHR, you may be tempted to make the new electronic system mirror your paper one. This isn't necessarily the best solution. Sometimes it's more efficient to alter your workflow to accommodate your EHR instead of the other way around. Paper-based processes aren't always the most efficient. It is important to consider the possibility of changing how your office works in order to take full advantage of the benefits the new system can provide.
Insufficient training for staff.
 If you and your staff are not properly trained, then your transition to your EHR will be a slow and painful one—not a great way to get started. It is important to account for the amount of training that will be necessary to ensure a smooth transition. You can select certain staff members to train first in order to provide a resource for members who may need more continued and personal training beyond the basics. Proper training will help improve efficiencies with the EHR; so, make it a priority.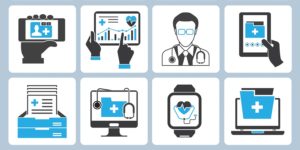 Failure to notify patients.
 Make sure to let your patients know about the upcoming changes and prepare them for potential delays. While your staff may have received exceptional training, there is still a learning curve to tackle, and that takes time. Initially, processes may be slow as your staff gets up to speed. The more you educate your patients about the process, the less frustrated they're likely to be as you implement a new system.
Impersonal interactions with patients.
 Doctors don't often think about how an EHR will impact their dealings with patients, but sometimes incorporating new technology can be awkward and impersonal, especially when you're trying to input data while having a conversation.
In order to avoid these mistakes, the first step is careful selection and implication. All stakeholders should provide input into the needs of the new practice. Creating an EHR selection committee from clinicians experienced in EHR is a great way to make sure that everyone has a voice in the decision. The selection committee should conduct a thorough clinical analysis with input from various aspects of the practice from office staff to clinical staff to the billing department.
The new practice can rectify mistakes by addressing issues promptly. Avoid ignoring problems in hopes that they will go away. It is best to address any issues right away, either with further training or utilization of the EHR member support team. This way, you will be more likely to find solutions before growing user discontent sets in.
In general, a quick checklist of the most important aspects can be considered before taking the leap into a new system. Have you considered?
Setting up effective organizational, departmental, and project leadership
Project scope, charter, and budget should be at the forefront for everyone involved.
Ensuring every member of your staff is in the most effective role.
Taking time to test how the system will affect your day to day workflow
A clear time period and plan for training
A solid, well-defined plan for support as the change takes place
Reference:
https://www.foxgrp.com/information-technology/ehr-replacement-avoid-mistakes/
http://www.hp.com/sbso/solutions/healthcare/whitepaper_ehr_four_mistakes.pdf
http://onprem.kareo.com/documents/EHR_Implementation_10_Mistakes_Overview.pdf
https://blog.evisit.com/5-mistakes-to-avoid-when-implementing-an-ehr
https://www.ehrinpractice.com/three-ehr-selection-mistakes-how-to-avoid-them-379.html
https://www.ehrinpractice.com/paper-charting-to-ehr-software-4-common-mistakes-148.html
https://www.ncbi.nlm.nih.gov/pmc/articles/PMC5089148/