Questions to Ask Before Hiring a Billing Services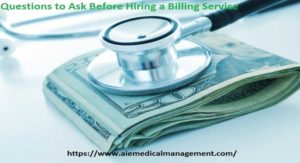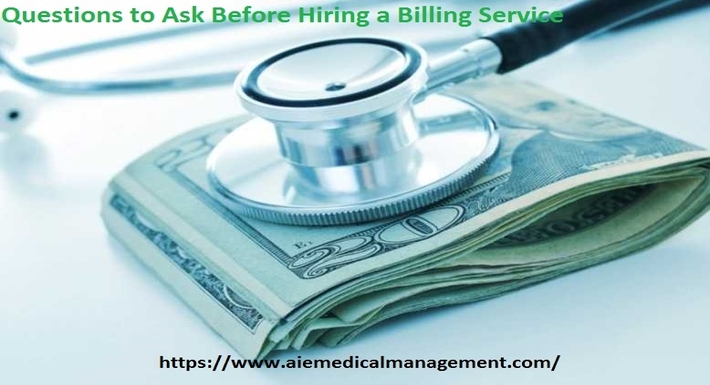 Medical billing has changed and continues to evolve. Every time you think you have it all figured out, a new roadblock to reimbursement pops up. Finding and retaining qualified billing staff to handle medical billing and collections has become difficult and costly.
A growing number of providers are turning to an outsourced Revenue Cycle Management (RCM) partner to alleviate the administrative burden and overhead associated with the billing process. Practices that outsource their billing can see a 5-10% increase in net collections, not to mention the operational benefits that allow practices to focus on a better patient and provider experience.
This is often a very smart decision and can help your office to get better organized and run more efficiently. You should, however, do your homework before hiring just any billing service company to assist your work. It is crucial that you ask all of the right questions to ensure the most seamless transition that will lead to a long lasting relationship.
How much does your service cost?
This is more than likely the first question on your mind when choosing a medical billing service.
Will your monthly bill be based on a flat rate or a percentage of charges collected? Because medical billing services should help you to increase collections, the percentage option is a good one as it aligns the service's incentives with your practice's goals.
Are there additional fees? On top of the monthly cost, billing services may charge additional fees for initiation, termination, or data conversion. It's important to factor in these extra costs when you are comparing billing service costs.
What services are included? Medical billing services aren't always equal, and a less costly service may be a less comprehensive service. Find out exactly what kind of billing assistance is included, and ask about different packages that may be available to determine which one best suits your healthcare practices' needs.
Can you provide references?
Has this medical billing company worked with practices that are similar to yours in size, scope, and/or specialty? Do they have testimonials, or can you call someone directly for a reference?
Who owns our billing data?
Your billing data should belong to you, and you should be able to take it with you if you choose to change services or bring your billing in-house.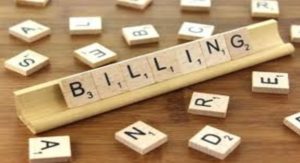 What kind of reporting can we expect?
Outsourcing a major function of your practice can be very stressful if you're not kept in the loop. Ask about the frequency of reports, and what each report will include. Knowing what kind of information you can expect to receive on an ongoing basis and what you can request can help you choose which service you will be most comfortable working with.
Who will actually be handling your account, and what happens when the person is out of the office?
Medical billing is time sensitive, you want to make sure that you're covered at all times to prevent unwanted surprises for your practice.
Are most of your services electronic?
In this day and age, most of the processes should be electronic from eligibility verification to remittances. They should also offer credit card processing and online bill pay for patients.
Is the medical billing company HIPAA compliant?
The HIPAA law dictates that all covered entities (providers) and any companies you contract adhere to regulations. Everyone who handles protected health information is responsible for ensuring that patient data remains private and is kept and transmitted securely, and committing to breach notification practices. Ask about the medical billing service's HIPAA compliance plan. What measures do they take to keep your data safe?
What qualifications do your service and staff have?
Are they certified? What type of ongoing training do they receive? Are they using the most up-to-date resources and guidebooks (i.e., CPT, HCPCS, etc.)? Professional and skilled medical billing involves in-depth knowledge of medical codes and experience working with patients and doctors, and it is very helpful to work with a company that understands the conditions and procedures in your field and can use this expertise to help you maximize collections.
Evaluating your billing vendor by asking these eight simple questions will help you determine whether your practice is getting the quality of service you are paying for. Billing vendors who are knowledgeable, efficient, and accurate will help you maintain a financially successful practice.
Reference:
https://www.practicesuite.com/practicemanagement/8-key-questions-to-ask-before-hiring-a-medical-billing-company/
https://gopractice.kareo.com/article/10-questions-ask-hiring-medical-billing-service
https://gopractice.kareo.com/article/6-questions-ask-when-considering-billing-company
https://blog.healthinfoservice.com/blog/bid/115439/Top-Seven-Questions-to-Ask-Before-You-Hire-A-Medical-Billing-Service
http://mrsofli.com/blog/medical-billing-companies-on-long-island/
http://www.cmsdocs.org/news/ten-questions-to-evaluate-your-billing-vendor
http://intuitive.solutions/3-must-have-questions-to-ask-before-hiring-a-medical-billing-service/
https://www.revprohealthcare.com/blog-questions-to-ask-medical-billing-service.html